Dates are set for our 2012 Modeknit Autumn Retreat!
October 19 – 21, Bug Bee Hive Resort in Paynesville, MN

Knitting, rest, laughter, friendship and lakeside beauty
…what else is there?
Our Fall 2011 retreat is over, and it was AMAZING!
We had wonderful, laughter-filled meals and great classes (if I do say so myself…) 
The mix of folks was perfect, and at the end of the weekend there was so much hugging it felt like a family reunion!
YOU can be part of the 2012 Modeknit Knitting Retreat!
I've had to raise the price slightly for 2012, but if you register now and pre-pay the full amount, you can attend the retreat at 2011 prices! For our class work we'll focus on one theme: Double Knitting!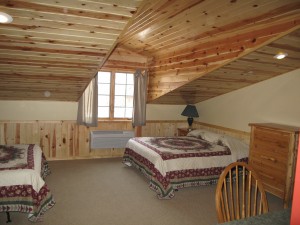 When: October 19-21
Where: BugBee Resort, Paynesville, MN*
Reservations: Reserve your room with a $100 non-refundable deposit. 
Pay the full amount in advance and save $50!

Double Occupancy
$350 per person ($100 deposit) 

$300 per person if pre paid in full
Single Occupancy
$400 per person ($100 deposit) 

$350 per person if pre paid in full
Group size limited to 16 participants for the retreats so it can be small and intimate.  Better learning, better group dynamics!
Come for a weekend of rest, relaxation and knitting.  Ease into two technique classes, or simply enjoy the company and knit at your own pace (both classes taught by Annie Modesitt.)  Our intimate group will be limited to 16 participants.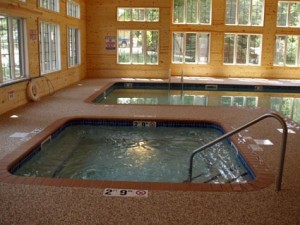 Wander the beautiful wooded area surrounding Lake Koronis, 15 miles south of Paynesville, MN.
Bring a bike and venture along the Lake Koronis Recreational Trail, or sit quietly and gaze at the colors reflected in the lake!
Meals are provided, (please feel free to bring your own alcoholic or specialty beverages if you like).
Weekend Schedule
(Fall 2012 Retreat)

Friday
Saturday
Sunday
All Day – Arrival
8am – Breakfast
10am – Brunch
6pm – Dinner
10:00  – Class
Individual Knitting
(We'll leave by noon)
Relax, knit & share!
1pm – Lunch
2pm – More Class
6pm – Dinner
Relax, Knit & Share!
*Paynesville is about 2 hours northwest of the Twin Cities, just south of St. Cloud, MN.  We'll be happy to help participants flying into MSP Airport arrange ride shares with each other to minimize rental car fees.