Apparently my tumor has been a sneaky pete, waiting around, hiding in places where only an MRI would find it.  I can't be TOO angry at the tumor, after all, I made it.  And I'm enough of a crafty woman to appreciate a good (artistic?) creation.
[caption id="attachment_6061" align="alignright" width="300"]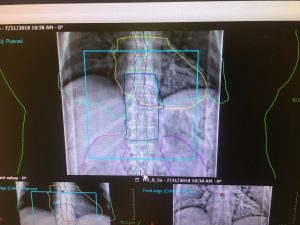 During each radiation treatment Xrays were used to align the laser for best zapping power[/caption]
The tumor has grown straight (well, not really in-a-line-straight) through my T10 vertebra and is going into my T9. There's also some growth to the right, which I can feel, which is the weirdest thing in the world.