Molly's striped scarf is lovely, and makes a statement, but it's just not practical for solving crimes!
Those long tails dragging in the forensic materials, getting stuck in drawers & doors, it could drive a pathologist crazy.
Here's an idea; how about the same beautiful stripes, but worked as an easy-to-wear cowl that doubles as a hood on those chilly London evenings?
"Because the one person he thought didn't matter at all to me ended up mattering most of all."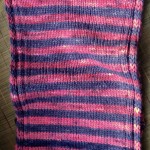 Each kit comes with two 50g skeins of either ModeLuxe or ModeWerk Worsted (choose your color combinations below) and the pattern for this delightful piece!
Click on yarn name above for full content / ply information
"I hope you'll be very happy [with your] Molly Hooper, you deserve it."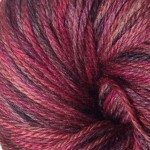 Plum Jasper [Semi Precious]
Sometimes Pink & Black play nice, like on a Chanel box, but in this colorway they've met in a dark alley and are halfway through a rip roaring night on the town. And they might not be home for breakfast.
Pattern Information
One Size: 28"/71cm Circ x 10"/25cm Depth
Skill Level:. C 2 Easy
Fiber: ModeKnit Yarn, ModeLuxe,
(88yds /80m. 1.75oz /50gr) per skein
Color A – Plum Jasper
Color B – Old Fashioned Villain
Gauge: 16 sts x 26 rows = 4"/10cm in St st using needle size 8 US/5mm
Notions: Darning needle, waste yarn for provisional cast on,. circ needle (in size US8/5mm or smaller) for 3-needle bind off.
Pattern Notes
Casting On & Binding Off
If you prefer not to work a provisional cast on and 3-needle bind off, an alternative is to cast on using any method and bind off using a traditional BO, then sew the edges together with a mattress stitch (this may seem easier, but the join will not be as nice as joining live sts with a 3-needle bind off.)
"Annie's Slip Stitch Edging"
The technique used in this pattern is a beautiful way to self-finish an edge. Once you learn it, you will use it all the time! It should be worked relatively loosely so it doesn't draw up the edge. It's important to remember when working this edging that every time a stitch is slipped, the yarn should be held TOWARD the knitter (whether you're working on the RS or the WS of the work).
Special Stitches & Techniques
Provisional Cast On
This is a term used to describe a cast on which can be easily removed later, leaving a row of live stitches to be slipped onto a needle and worked. One favorite method is to crochet a chain in waste yarn with at least as many sts as you would like to cast on. Tie off the end of the chain, placing a knot in the tail. Slip your knitting needle into the bump at the back of each chain, creating one cast on "stitch" on the needle for each bump. Later the chain can be loosened at the knotted end and removed, leaving live sts.
Sl 1 wyrs – Slip 1 with yarn to right side
Move yarn to RS of work. Insert RH needle purlwise into st and slip off of LH needle.
Sl 1 wyrs – Slip 1 with yarn to wrong side
Move yarn to WS of work. Insert RH needle purlwise into st and slip off of LH needle.
3 Needle Bind Off
Place the two pieces on knitting needles so the right sides of each piece are facing each other with the needles parallel.
Insert a third needle one size larger through the leading edge of the first stitch on each needle (knitwise)
Knit these stitches together as one, leaving 1 st on RH needle.
Repeat steps 2 & 3 and slip older stitch on RH needle over newer stitch.Repeat step 4 until all sts are bound off. Cut yarn, pull through last stitch.