By working a slip stitch round juxtaposed with simple garter, a beautiful texture is created which shows off both your knitting skills and the beautiful ModeKnit Worsted Yarn of your choice to perfection!
This is a wonderful project for the knitter who would like to try colorwork, but only wants to use one color at a time! It's a great technique, as long as you can knit and purl, you can do it!
Each kit comes with two 50g skeins of either ModeLuxe or ModeWerk (choose your color combinations below, click here for the full palette) and the pattern for this delightful piece!
Click on yarn name above for full content / ply information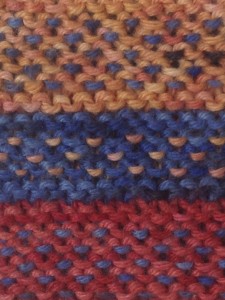 The stitch pattern looks great in just about any combination.
To the left are samples in Lazurite/Blue Chabazite/Orange
& Spessartine/Red
To the right is the Slippy Cowl shown in Bristol South Pool & Straighten Your Knocker (two 221B Colors)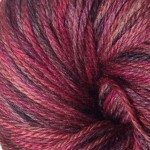 Plum Jasper [Semi Precious]
Sometimes Pink & Black play nice, like on a Chanel box, but in this colorway they've met in a dark alley and are halfway through a rip roaring night on the town. And they might not be home for breakfast.
Pattern Details
One Size: 22"/56cm circ x 7"/18cm deep
Skill Level:  K 2 Easy
Notions: Darning needle, waste yarn for provisional cast on (optional)
Special Techniques
Sl 1 – Slip One Stitch
Keeping yarn to the wrong side of work, insert right hand needle purlwise into stitch and slip onto right needle.
K2tog-L – Knit 2 tog with a Left Slant
Knit 2 sts together so the working needle is pointing to the left as it enters the stitch (dec will slant to the left) 
aka SSK, k2togTBL or skp.
K2-tog Bind Off
 – K2tog-L, slip the stitch just created back onto the left needle and repeat.  Work to the end and pull the fiber tail through the last loop.
Provisional Cast On – 
This is a term used to describe a temporary cast on which can be easily removed later, leaving a row of live stitches to be slipped onto a needle and worked.  One favorite method is to crochet a chain in waste yarn with at least as many sts as you would like to cast on.  Tie off the end of the chain, placing a knot in the tail.  Slip your knitting needle into the bump at the back of each chain, creating a "stitch" on the needle.  When desired, the chain can be loosened and pulled off at the knotted end.