It's family bonding time at 221B Baker Street, the boys are sharing a moment.
A hat is discovered, which (of course) triggers a game of Deductions.
The most important deduction by far is this simple observation, stated by Sherlock:
"Any body who wears a hat as stupid as this isn't in the habit of hanging around other people, is he?"
Well, it's not a stupid hat. It's a lovely hat.
And you are JUST the person to knit it up, wear it, and prove Sherlock wrong (for once!)
Sherlock: "I've written a blog on the varying tensile strengths of different natural fibers."

Mrs. Hudson: "I'm sure there's a crying need for that!"
The kit is available in either ModeLuxe (Merino/Silk blend) or ModeWerk Worsted (Superwash Merino) in all of our beautiful ModeKnit Yarn Colors.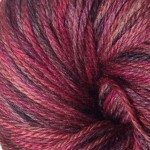 Plum Jasper [Semi Precious]
Sometimes Pink & Black play nice, like on a Chanel box, but in this colorway they've met in a dark alley and are halfway through a rip roaring night on the town. And they might not be home for breakfast.
Instruction Details
To fit head 18 (19, 20, 21, 22)"/46 (48.5, 51, 53.5, 56) cm head.
Skill Level:  K 1 Beginner
Notions: Darning needle
Special Stitches & Techniques
K2tog-L – Knit 2 tog with a Left Slant
Knit 2 sts together so the working needle is pointing to the left as it enters the stitch (dec will slant to the left) aka SSK, k2togTBL or skp.
K2tog-R – Knit 2 tog with a Right Slant
Knit 2 sts together so the working needle is pointing to the right as it enters the stitch (dec will slant to the right) aka k2tog
VDD – Vertical Double Decrease
Sl 2 sts as if to work k2 tog-R, k1, pass slipped sts over (decrease of 2 sts)