Our initial colorways are inspired by semi-precious gemstones & minerals and range from semi-solid to blends with a few chunkier color breaks.
Additionally, every now and then we'll toss in a limited edition 'mini-collection', usually consisting of 8 colorways, based on our favorite books, movies and TV shows.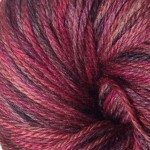 Plum Jasper [Semi Precious]
Sometimes Pink & Black play nice, like on a Chanel box, but in this colorway they've met in a dark alley and are halfway through a rip roaring night on the town. And they might not be home for breakfast.