We're thrilled to announce ModeWerk in two weights, fingering for lighter projects, worsted/aran weight for scarves, hats and sweaters.
A true workhorse of a yarn; strong, soft, beautiful to knit with (amazing stitch definition) and to top it all off, it machine washes and dries wonderfully!
This is a wool yarn to convert folks to the beauty of easy-care wool!
Fingering (4 ply): Approx 7 sts / inch using size 1US / 2.25mm needles.
MODEWERK WORSTED SOLD OUT – NEW SHIPMENT DUE IN MAY!
Worsted (10 ply): Approx 4 sts / inch using size 5-7US / 3.75-4.5mm needles.
Product of the South America, hand dyed in the USA (Minnesota!)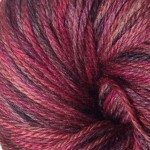 Plum Jasper [Semi Precious]
Sometimes Pink & Black play nice, like on a Chanel box, but in this colorway they've met in a dark alley and are halfway through a rip roaring night on the town. And they might not be home for breakfast.